products :: Nonfiction :: Personal Growth / Self-Help / Motivation ::
Unwrapping the Bible
Unwrapping the Bible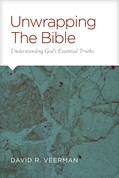 Price:
15.99
ISBN:
978-1-4964-2818-9
Trim Size:
6 x 9
Binding:
Softcover
Release:
August 2018
With Unwrapping the Bible, you'll understand, in a fun and engaging way, seven essential teachings of the Bible that form the core of the Christian faith.

This convenient guide to the teachings of the Bible begins with who God is. Then it explores what the Bible says about Jesus Christ and us, how we can be saved, and how we can grow in holiness and follow God's way. The book ends with an explanation of what the church is and its ongoing mission in this world.

By understanding these seven core beliefs and following Jesus Christ wholeheartedly, you can anchor your life to the truth of God's Word. The storms of this world won't be able to unmoor you from the truth.

Ground yourself in God's Word. Find yourself in God's Story. Walk with confidence in God's way.