products :: Kids :: Stickers ::
Chart Mini Stickers Variety Pack
Chart Mini Stickers Variety Pack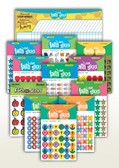 Price:
30.38
ISBN:
978-1-4964-2389-4
Binding:
Stickers
Release:
September 2016
Use these positive-reinforcement stickers to motivate and reward your young learners at home and in the classroom. This variety pack includes
416 stickers
of hearts, stars, butterflies, praying hands, and much more.
In addition to the Sweeter Than Honey Wall Chart (9781496403247), you get 11 different sticker sets with 4 sheets from each of the following:
Mini Happy Face (9781414392783)
Miniature Red Heart (9781414392752)
Star Smile Faces (9781414393568)
Assorted Foil Stars (9781414393346)
Butterfly Miniatures (9781414393179)
Miniature Ichthus (9781414393414)
Happy Apples (9781414395074)
Children's Bible Micro Mini (9781414393377)
Cross Miniatures (9781414392578)
Gold Praying Hands (9781414393148)
Religious Miniatures (9781414392585)
A great value!