products :: Kids :: Stickers ::
Bible Sticker Variety Pack
Bible Sticker Variety Pack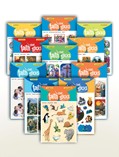 Price:
27.39
ISBN:
978-1-4964-2387-0
Binding:
Stickers
Release:
September 2016
The Bible comes alive with this sticker collection! Featuring
586 stickers
of Bible characters and animals, this sticker collection is the ideal addition to your Sunday School or classroom. Includes 11 different sticker sets with 4 sheets from each of the following:
Ark & Animals (9781414392455)
Noah & Co. (9781414392493)
Ark Animals (9781414392608)
Life of Christ (9781414392462)
Jesus Died and Lives (9781414393087)
Heroes of the Bible (9781496402899)
Life of Jesus (9781496402905)
Old Testament Bible Stories (9781496402943)
New Testament Bible Stories (9781496402950)
Classic Jesus Pictures (9781414393483)
Jesus and Children (9781414393483)
A great value!