products :: :: ::
Cornerstone Biblical Commentary Complete Set
Cornerstone Biblical Commentary Complete Set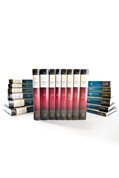 Price:
666.8
ISBN:
978-1-4964-1972-9
Binding:
Hardcover
Release:
April 2016
The New Testament Cornerstone Biblical Commentary is an accessible, exegetical commentary focused on illuminating the meaning of the Bible. The
12 volumes covering the Old Testament
and the
8 volumes covering the New Testament
provide up-to-date, evangelical scholarship. Each volume is designed to equip pastors and Christian leaders with exegetical and theological knowledge to better understand and apply God's Word by presenting the message of each passage as well as an overview of other issues surrounding the text. The commentary series has been structured to help readers understand the meaning of Scripture, passage-by-passage, through the entire Bible. Philip W. Comfort is the general editor for the series.
Using the New Living Translation, an authoritative Bible translation rendered faithfully into today's English from the ancient texts by 90 leading Bible scholars, the Cornerstone Biblical Commentary is eminently readable by all interested in learning about Scripture. The NLT's scholarship and clarity breathe life into even the most difficult-to-understand Bible passages—but even more powerful are stories of how people's lives are changing as the words speak directly to their hearts. That's why the NLT is called "The Truth Made Clear."
The Cornerstone Biblical Commentary Complete Set includes the following 20 Volumes:
#1: Genesis, Exodus (John Oswalt, Alan Ross)
#2: Leviticus, Numbers, Deuteronomy (David Baker, Dale Brueggemann, Eugene Merrill)
#3: Joshua, Judges, Ruth (Joseph Coleson, Lawson Stone, Jason Driesbach)
#4a: 1-2 Kings (William Barnes)
#4b: 1-2 Samuel (J. Robert Vannoy)
#5a: 1-2 Chronicles (Mark Boda)
#5b: Ezra, Nehemiah, Esther (Gary Smith)
#6: Job, Ecclesiastes, Song of Songs (August H. Konkel, Tremper Longman III)
#7: Psalms, Proverbs (Mark Futato, George M. Schwab)
#8: Isaiah, Jeremiah, Lamentations (Larry L. Walker, Elmer A. Martens)
#9: Ezekiel, Daniel (EuGene Carpenter, David Thompson)
#10: Minor Prophets: Hosea through Malachi (Andrew Hill, Richard Patterson)
#11: Matthew, Mark (David L. Turner, Darrell L. Bock)
#12: Luke, Acts (Allison A. Trites, William J. Larkin)
#13: The Gospel of John, 1-3 John (Philip Comfort, Wendell C. Hawley, Grant Osborne)
#14: Romans, Galatians (Gerald Borchert, Roger Mohrlang)
#15: 1-2 Corinthians (William Baker, Ralph Martin, Carl N. Toney)
#16: Ephesians, Philippians, Colossians, 1-2 Thessalonians, Philemon (Philip Comfort, Peter Davids, Harold W. Hoehner)
#17: 1-2 Timothy, Titus, Hebrews (Linda Belleville, Jon Laansma, J. Ramsey Michaels)
#18: James, 1-2 Peter, Jude, Revelation (Robert Mulholland, Grant Osborne)