products :: Nonfiction :: Inspirational ::
Habits of the Heart
Habits of the Heart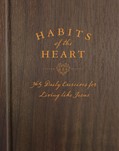 Price:
15.99
ISBN:
978-1-4964-1806-7
Trim Size:
4.25 x 5.375
Binding:
Hardcover
Release:
September 2017
Are you "out of shape" spiritually? Do you long for a life that is fully and deeply engaged with the Creator? Does your heart ache to be transformed by God? Real change happens only when we train ourselves to be in the habit of exercising our hearts in the practice of godliness. The Bible says that training the body is of some value, but the most important thing we can do is to train our spirit.
Habits of the Heart
will help you develop practices that draw you into a deeper and lasting relationship with God. Each day of the year, this simple guide will help you focus on one essential aspect of your walk with God and show you how to make it a habit.
Features:
Unique cover material featuring wood texture stamped with a bronze foil
Elegant interior design with full-color end papers and a ribbon marker
365 devotions offer a meaningful, yet practical, way to exercise your heart in the practice of godliness
Each week immerses you in a specific practice: conversational prayer, unplugging from life's daily grind, waiting on God, being watchful, and much more