products :: Bibles :: Text ::
NLT Reflections Bible
NLT Reflections Bible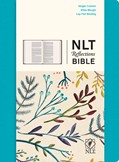 Price:
39.99
ISBN:
978-1-4964-1805-0
Trim Size:
6.375 x 8.5
Binding:
Hardcover Cloth, Ocean Blue
Release:
September 2016
NLT Reflections is a single-column, wide-margin New Living Translation Bible. Extra-wide 2.25" lightly ruled margins make this Bible great for note-taking, journaling, recording prayers, doodling, drawing, and other creative expression in response to God's Word. Special features include high-quality white Bible paper for journaling, a beautiful line-over-line setting with an attractive font, a durable Smyth-sewn lay-flat binding, matching ribbon marker, and elegant spine hubs. All three bindings are hardcover, including the classic black edition with an elastic band, the deluxe brown LeatherLike edition, and the beautiful ocean blue fabric edition.

The New Living Translation is an authoritative Bible translation, rendered faithfully into today's English from the ancient texts by 90 leading Bible scholars. The NLT's scholarship and clarity breathe life into even the most difficult-to-understand Bible passages—but even more important are stories of how people's lives are changing as the words speak directly to their hearts.