products :: Fiction :: Romance ::
The Alliance
The Alliance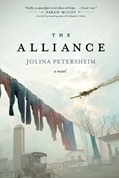 Price:
22.99
ISBN:
978-1-4964-1399-4
Trim Size:
5.5 x 8.25
Binding:
Hardcover
Release:
June 2016
2017 Christy Award finalist (Visionary category)
When Leora Ebersole sees the small plane crash in her Old Order Mennonite community, she has no idea it's a foreshadowing of things to come. When the young pilot, Moses Hughes, regains consciousness, they realize his instruments were destroyed by the same power outage that killed the electricity at the community store, where Englischers are stranded with dead cell phones and cars that won't start.

Moses offers a sobering theory, but no one can know how drastically life is about to change. With the only self-sustaining food supply in the region, the Pacifist community is forced to forge an alliance with the handful of stranded Englischers in an effort to protect not only the food but their very lives.

In the weeks that follow, Leora, Moses, and the community will be tested as never before, requiring them to make decisions they never thought possible. Whom will they help and whom will they turn away? When the community receives news of a new threat, everyone must decide how far they're willing to go to protect their beliefs and way of life.