products :: Nonfiction :: Reference ::
The Best of the Bible
The Best of the Bible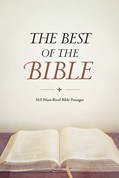 Price:
16.99
ISBN:
978-1-4964-1179-2
Trim Size:
5.5 x 8.25
Binding:
Softcover
Release:
March 2016
With 365 daily readings, this book guides you through the "best" of the Bible. In this book, you will read the scriptural passages that have shaped the lives of Christians for millennia. The Best of the Bible presents, in an easy-to-use daily format, the most relevant biblical passages for your spiritual life. This year, discover the wisdom of the Bible for yourself. Use The Best of the Bible as your guide.