products :: Kids :: Juvenile Nonfiction ::
Noah's Amazing Ark
Noah's Amazing Ark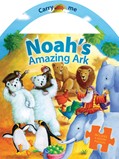 Price:
11.99
ISBN:
978-1-4964-1087-0
Trim Size:
10.3 x 7.5
Binding:
Board Book
Release:
November 2015
Noah's Amazing Ark retells the well-known Bible story of Noah's obedience to God as he built the ark to prepare for the flood God promised was coming; God's provision of safety to Noah, his family, and the animals; and God's promise to never send another flood to destroy the earth again.

The Bible stories in the Carry Me Puzzle Books will encourage kids to engage with the content of these Bible stories at a deeper level as they "put the pieces of the story together". Each book contains four 16-piece puzzles built into the pages with beautiful illustrations and charming storytelling. Full-color backgrounds make it easier to put the puzzles back together after they have been taken apart, and the die-cut handles make these books fun to carry along.