products :: Kids :: Juvenile Nonfiction ::
Jonah and the Big Fish
Jonah and the Big Fish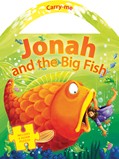 Price:
11.99
ISBN:
978-1-4964-1086-3
Trim Size:
10.3 x 7.5
Binding:
Board Book
Release:
November 2015
Jonah and the Big Fish retells the story of the prophet Jonah who disobeyed God and found himself swallowed by a big fish. After three days in the fish's belly, Jonah decided that obeying God was a much better choice, and he decided to do what God had asked him to do. See what happened to Jonah inside the pages of this book!

The Bible stories in the Carry Me Puzzle Books will encourage kids to engage with the content of these Bible stories at a deeper level as they "put the pieces of the story together". Each book contains four 16-piece puzzles built into the pages with beautiful illustrations and charming storytelling. Full-color backgrounds make it easier to put the puzzles back together after they have been taken apart, and the die-cut handles make these books fun to carry along.