products :: Bibles :: Teens ::
Teen Slimline Bible NLT
Teen Slimline Bible NLT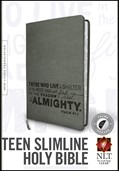 Price:
34.99
ISBN:
978-1-4964-0773-3
Trim Size:
5.313 x 7.625
Binding:
LeatherLike, Indexed, Charcoal Index
Release:
January 2015
The popular Teen Slimline Bible in the New Living Translation is now available for the first time with thumb indexing to help teens find passages quickly. The presentation page, cover design, and page edges creates an overall theme using Psalm 91:1, which encourages teens to depend on God to be their shelter when they go through difficult times or need rest. Includes a 53-page dictionary/concordance that helps teens locate passages on various topics, 8 pages of full-color maps, charcoal ribbon marker, and thumb indexing tabs.

The New Living Translation text is excellent for teens because it is so clear and they can understand what they are reading! When they can read and understand God's Word, God can work in their hearts!