products :: Fiction :: Romance ::
Chance of Loving You
Chance of Loving You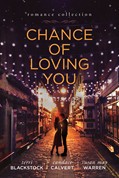 Price:
14.99
ISBN:
978-1-4964-0537-1
Trim Size:
5.5 x 8.25
Binding:
Softcover
Release:
May 2015
An anthology by three bestselling romance authors

For Love of Money by Terri Blackstock Trying to launch her own design firm while waitressing on the side, Julie Sheffield was drawn to the kind man she waited on at the restaurant last night . . . until he stiffed her on the tip by leaving her half of a sweepstakes ticket.

The Recipe by Candace Calvert Hospital dietary assistant Aimee Curran is determined to win the Vegan Valentine Bake-Off to prove she's finally found her calling. But while caring for one of her patients—the elderly grandmother of a handsome CSI photographer—Aimee begins to question where she belongs.

Hook, Line & Sinker by Susan May Warren Grad student Abigail Cushman has agreed to enter the annual Deep Haven fishing contest. She's a quick learner, even if she doesn't know the difference between a bass and a trout. But nothing could prepare her for competing against the handsome charmer she's tried to forget since grief tore them apart.

One chance for each woman to change her life . . . but will love be the real prize?