products :: Kids :: Picture Books ::
Easter Surprises Story + Activity Book
Easter Surprises Story + Activity Book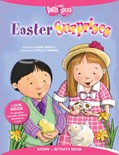 Price:
3.99
ISBN:
978-1-4964-0311-7
Trim Size:
6.125 x 8
Binding:
Softcover
Release:
February 2015
Explore Faith That Sticks books—filled with fun-to-read stories and activities that teach children about God while they are learning to read. Faith That Sticks books include stickers, discussion questions, and other activities designed to bring enjoyment and deepened learning experiences for kids.

Easter morning brings happy surprises for everyone! Counting baby animals, hide-and-seek pages, and other fun activities lead to reminders of the most important reason we celebrate Easter—Jesus rose from the dead! Let's celebrate Easter together!