products :: Kids :: Stickers ::
Musical Praise Makers
Musical Praise Makers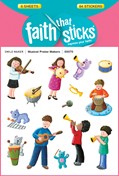 Price:
2.49
ISBN:
978-1-4964-0307-0
Trim Size:
4.063 x 6
Binding:
Stickers
Release:
March 2015
God loves it when boys and girls make a joyful noise! These stickers show children playing drums, guitar, tuba, violin, trumpet, tambourine, and more. A fun way to get children involved as you teach a lesson at home or church on praising God, or to introduce little ones to various musical instruments. Also the perfect reward sticker to be used by music teachers or on practice charts. All images are taken from Big Thoughts for Little People by Kenneth N. Taylor, illustrated by Andrea Petrlik Huseinovic. Includes 6 sheets, 14 stickers per sheet; 84 stickers total.