products :: Kids :: Stickers ::
Jesus Loves the Children of the World
Jesus Loves the Children of the World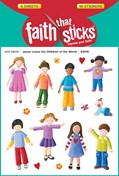 Price:
2.49
ISBN:
978-1-4964-0301-8
Trim Size:
4.063 x 6
Binding:
Stickers
Release:
March 2015
A fun way to teach and remind children that God loves kids everywhere—from countries all around the world. Boys and girls in traditional dress from Alaska, India, North Africa, and China allow you to talk with children and home, school, and church about God's love for all people—and the ways we can help and pray for those in other places. All images are taken from Big Thoughts for Little People by Kenneth N. Taylor, illustrated by Andrea Petrlik Huseinovic. Includes 6 sheets, 15 stickers per sheet; 90 stickers total.