products :: Kids :: Stickers ::
Illustrated Bible Verses
Illustrated Bible Verses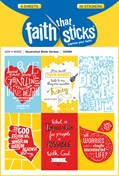 Price:
2.49
ISBN:
978-1-4964-0299-8
Trim Size:
4.063 x 6
Binding:
Stickers
Release:
March 2015
Pinnables become stickables! These stickers are fun, hand-drawn illustrations of powerful Bible verses. A perfect way to decorate name tags, notes, cards, and more, they're also great for helping kids and adults memorize some of the most meaningful, memorable verses in Scripture. Includes 6 sheets, 6 stickers per sheet, for a total of 36 stickers.