products :: Kids :: Stickers ::
Thank You, God, for Summer
Thank You, God, for Summer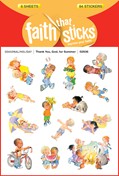 Price:
2.49
ISBN:
978-1-4964-0293-6
Trim Size:
4.063 x 6
Binding:
Stickers
Release:
March 2015
Nothing highlights the joy of summer like marshmallows around the campfire, running through the sprinkler, eating watermelon, or bobbing on the waves. These colorful stickers, featuring adorable boys and girls, are great for summer crafts, vacation Bible school, decorations, invitations, and more. They're also ideal for teachers and parents looking for a way to bring a smile to their kids' faces at home or church all year long. All images are taken from Blessings Every Day by Carla Barnhill, illustrated by Elena Kucharik. Includes 6 sheets; 84 stickers total.