products :: Nonfiction :: Spanish :: Spanish ::
Mi mayor legado
Mi mayor legado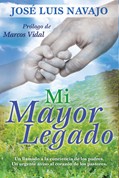 Price:
13.99
ISBN:
978-1-4964-0283-7
Trim Size:
6 x 9
Binding:
Softcover
Release:
August 2015
Un llamado a la conciencia de los padres. Un urgente aviso al corazón de los pastores.
Mi mayor legado es más que una novela. Es un telegrama urgente que invita a la reflexión. Es un llamado a considerar que la mayor inversión que podemos hacer no tiene divisa, ni se puede contar en términos financieros. Es de tipo espiritual, y debe ser realizada en las personas que están a nuestro lado, especialmente en nuestros hijos. Ellos reproducirán lo que hayamos sembrado en sus corazones. A través de un estilo poético y romántico, José Luis Navajo nos hace llorar y reir. Cada sección de "Reflexiones del padre" es única y no tiene desperdicio. Su profundidad y enseñanza traen alimento y edificación a quien toma en serio su servicio a Dios.

A call to the conscience of parents. An urgent notice to the heart of pastors.
My Greatest Legacy is more than a novel. It is an urgent telegram that invites reflection. It's a call to consider that the greatest investment we can make is not in currency, nor can it be counted in financial terms. It is of a spiritual nature and must be carried out in the people who are by our side, especially our children. Each section of "Reflections of the father" is unique and there is no wasting of words.