products :: Nonfiction :: Counseling / Psychology ::
The Twelve Laws of Life Recovery
The Twelve Laws of Life Recovery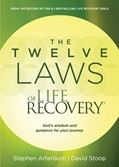 Price:
12.99
ISBN:
978-1-4964-0270-7
Trim Size:
5 x 7
Binding:
Softcover
Release:
September 2015
As you work toward life recovery, some days feel more difficult than others . . . and you may yearn for guidance and structure as you seek to rebuild your character. God offers twelve truths to live by as you walk into a new and healthier life. These "laws" will help you discover God's will for you throughout your recovery and will give you the wisdom you need to take the next steps.

In The Twelve Laws of Life Recovery, Stephen Arterburn and David Stoop—recovery pioneers and authors of the popular Life Recovery series that has guided millions of readers back to health and wholeness—invite you to explore these fundamental truths that, if followed, will help draw you closer to God and connect you more deeply with those around you. This powerful book reveals God's faithfulness in your everyday walk, enriching your life in a way you never imagined and inviting him to work within you.