products :: Kids :: Picture Books ::
God's Baby Animals Story + Activity Book
God's Baby Animals Story + Activity Book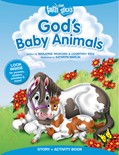 Price:
3.99
ISBN:
978-1-4964-0130-4
Trim Size:
6.125 x 8
Binding:
Softcover
Release:
August 2014
Learn about the cute baby animals God created! God's Baby Animals teaches kids about the special names for newborn animals of all kinds and reminds them that God made these precious creatures. Kids will love the beautiful illustrations, and the pictures of the babies with their mothers will bring a smile to any face!

Explore Faith the Sticks books—filled with fun-to-read stories and activities that teach children about God while they are learning to read. Faith that Sticks books include stickers, discussion questions, and other activities designed to bring enjoyment and deepened learning experience for kids.