products :: Kids :: Picture Books ::
God Made You Special Story + Activity Book
God Made You Special Story + Activity Book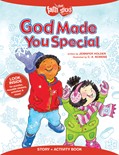 Price:
3.99
ISBN:
978-1-4964-0086-4
Trim Size:
6.125 x 8
Binding:
Softcover
Release:
August 2014
Explore Faith That Sticks books—filled with fun-to-read stories and activities that teach children about God while they are learning to read. Faith That Sticks books include stickers, discussion questions, and other activities designed to bring enjoyment and deepened learning experiences for kids.

Just as no two snowflakes are alike, and no two thumbprints are the same, God made each person special, and he loves each of us very much! God Made You Special teaches kids they are special because they are made in God's image. Each person has gifts and talents that God has given specifically to him or her. So celebrate and enjoy the uniqueness He has created in each person.