products :: Kids :: Picture Books ::
I Can Pray! Story + Activity Book
I Can Pray! Story + Activity Book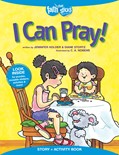 Price:
3.99
ISBN:
978-1-4964-0085-7
Trim Size:
6.125 x 8
Binding:
Softcover
Release:
August 2014
Explore Faith That Sticks books—filled with fun-to-read stories and activities that teach children about God while they are learning to read. Faith That Sticks books include stickers, discussion questions, and other activities designed to bring enjoyment and deepened learning experiences for kids.

"I can tell God anything. I can pray to Him any time or any place." I Can Pray weaves together Bible verses and real-life examples to teach kids the importance and basics of prayer. They will be reminded that God is always listening to their prayers and that He answers when He is called upon.