products :: Bibles :: Study ::
Baylor Annotated Study Bible
Baylor Annotated Study Bible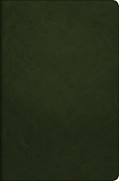 Price:
69.95
ISBN:
978-1-4813-0827-4
Trim Size:
6 x 9
Binding:
LeatherLike, Green/Gold
Release:
August 2019
The Baylor Annotated Study Bible represents a monumental collaborative effort, bringing together some seventy biblical scholars—Baylor faculty, graduates, affiliates, and friends—to refresh our view of the sacred texts. We present the Baylor Annotated Study Bible in partnership with Tyndale House Publishers. This Bible has been developed to serve as a reliable companion for both personal and classroom study. It follows in the long-standing mission of Baylor University: to serve as a faithful witness to the liberating, transformative good news of the gospel.

Each book of the Bible is given an introduction and commentary intended to immerse readers in the literary, sociohistorical, and theological depths of Scripture. Other features include a biblical timeline, glossary of terms, a concordance to the New Revised Standard Version translation, and full-color maps.