products :: :: :: Spanish ::
Devocional en un año – Alza tus ojos
Devocional en un año – Alza tus ojos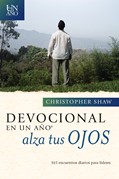 Price:
13.99
ISBN:
978-1-4143-9963-8
Trim Size:
6 x 9
Binding:
Softcover
Release:
November 2014
Por estar en una posición en la que se le exige mucho, el líder se ve en la necesidad constante de hacer un alto en el camino para alzar los ojos al Único capaz de suplir todas sus necesidades. El Señor no solamente promete afirmar sus pasos, sino también equiparlo con todo lo necesario para que él pueda cumplir su misión. Alzar sus ojos a Jesús es un ejercicio indispensable para el líder. Es la acción que le permitirá permanecer enfocado; por medio de ella, podrá escuchar a Dios y ser fortalecido y dirigido por él. Al perseverar en esta disciplina, el líder descubrirá que lentamente se produce esa maravillosa transformación que permite a los demás reconocer la mano de Dios sobre su vida y su ministerio.

Being a leader demands a lot, which is why we need to constantly stop along the way to lift our eyes to the only One who is able to fulfill all of our needs. The Lord not only promises to steady our steps, but also equip us with everything we need so that we can fulfill our mission. Lifting our eyes to Jesus is an indispensable exercise: it is the action that will allow us to stay focused, strengthened, and led by him.