products :: Stickers :: Bible Verses / Words ::
Christmas Greetings
Christmas Greetings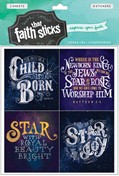 Price:
2.99
ISBN:
978-1-4143-9830-3
Trim Size:
4.063 x 6
Binding:
Stickers
Release:
June 2016
These high-quality, clear stickers are perfect for scrapbooking, Bible journaling, greeting cards, and so much more! Each package includes two sheets of stickers. Express your faith in a fresh new way!

All of these four beautiful designs will liven up any Christmas card. Scripture includes Isaiah 9:6, Matthew 2:2, and Matthew 2:10.