products :: Kids :: Juvenile Fiction ::
Si in Space
Si in Space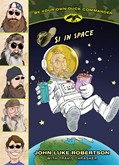 Price:
9.99
ISBN:
978-1-4143-9815-0
Trim Size:
5.25 x 7.25
Binding:
Softcover
Release:
October 2014
In this four-book juvenile fiction series featuring the popular Robertson family of Duck Commander and written by Phil's grandson John Luke Robertson (with Travis Thrasher), readers are invited to participate in the zany fun of the Duck Commander world. After a few chapters, readers can choose to go down different paths—all filled with humor and life lessons.

In this volume, a stranger comes into town offering the Robertsons the chance of a lifetime—to take a ride in a real spaceship and travel into space. Of course, none of the Robertson crew listens to this crazy person except Si, who pays to be a traveler. When John Luke hears about the opportunity, he decides to tag along for the ride. Soon they're traveling in space, but the captain of the ship goes unconscious. Can they make it back to earth alive?