products :: Bibles :: Text ::
Premium Gift Bible NLT
Premium Gift Bible NLT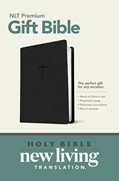 Price:
15.99
ISBN:
978-1-4143-9791-7
Trim Size:
5.375 x 8.25
Binding:
LeatherLike, Classic Black
Release:
October 2014
New Living Translation Gift Bibles offer today's most popular features, including book introductions, a dictionary/concordance, and a durable binding at an affordable price. Perfect for individual gift giving or for churches.

The New Living Translation is an authoritative Bible translation, rendered faithfully into today's English from the ancient texts by 90 leading Bible scholars. The NLT's scholarship and clarity breathe life into even the most difficult-to-understand Bible passages—but even more powerful are stories of how people's lives are changing as the words speak directly to their hearts.