products :: Bibles :: Text ::
Compact Edition Bible NLT
Compact Edition Bible NLT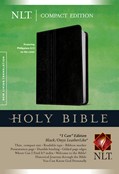 Price:
19.99
ISBN:
978-1-4143-9774-0
Trim Size:
4.125 x 6.125
Binding:
LeatherLike, Black/Onyx TuTone
Release:
February 2015
No matter what challenge you face, the "I Can" edition of the Holy Bible will encourage you to draw on Christ's strength for victory and never give up. Available in a compact edition that you can take wherever you go, it easily fits into a purse, backpack, or briefcase. The "I Can" edition features the life-changing New Living Translation text plus 25 pages of Bible helps up front.

"For I can do everything through Christ, who gives me strength." —Philippians 4:13

The New Living Translation is an authoritative Bible translation rendered faithfully into today's English from the ancient texts by 90 leading Bible scholars. The NLT's scholarship and clarity breathe life into even the most difficult-to-understand Bible passages—but even more powerful are stories of how people's lives are changing as the words speak directly to their hearts.