products :: Bibles :: Text ::
Compact Edition Bible NLT
Compact Edition Bible NLT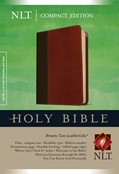 Price:
19.99
ISBN:
978-1-4143-9773-3
Trim Size:
4.125 x 6.125
Binding:
LeatherLike, Brown/Tan TuTone
Release:
November 2014
Compact editions of the Holy Bible, New Living Translation, make it easy for readers to carry God's Word with them wherever they go because they fit easily into a purse, backpack, briefcase, or suitcase. Featuring the life-changing New Living Translation text plus 25 pages of Bible helps up front, this compact edition is available in a classic brown/tan edition.

The New Living Translation breathes life into even the most difficult-to-understand Bible passages—but even more powerful are stories of how people's lives are changing as the words speak directly to their hearts.