products :: Bibles :: Text ::
Premium Slimline Reference Bible NLT, Large Print
Premium Slimline Reference Bible NLT, Large Print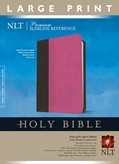 Price:
39.99
ISBN:
978-1-4143-9764-1
Trim Size:
6.5 x 9.187
Binding:
LeatherLike, Pink/Brown TuTone
Release:
February 2015
This beautiful large-print Bible features the fruit of the Spirit on the cover to remind you of the great work God is doing in your life. The slim, easy-to-carry size combined with the large-print text makes this Bible great for everyday use. Deluxe features include words of Christ in red and two ribbon markers.

"Love, joy, peace, patience, kindness, goodness, faithfulness, gentleness, and self-control." —Galatians 5:22-23

The New Living Translation is an authoritative Bible translation rendered faithfully into today's English from the ancient texts by 90 leading Bible scholars. The NLT's scholarship and clarity breathe life into even the most difficult-to-understand Bible passages—but even more powerful are stories of how people's lives are changing as the words speak directly to their hearts.