products :: Kids :: Juvenile Nonfiction ::
Promises for God's Princesses
Promises for God's Princesses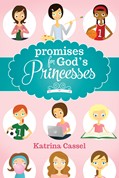 Price:
9.99
ISBN:
978-1-4143-9660-6
Trim Size:
5.5 x 8.25
Binding:
Hardcover
Release:
September 2014
This gift book for young girls is the perfect next step in the Tyndale princess line. As young girls grow and leave behind some of the fully illustrated picture books, they still want to feel special, and they still need to know they are loved as God's daughters. This is the book to share with them. This devotional book is full of Scriptures about God's love, protection, and promises. The book's 100 devotions tie in the Scriptures to help young girls apply them to their lives. This diary-style book will attract the growing girl while still making her feel like a princess, a special child of God.