products :: Nonfiction :: People & Culture ::
A Year of Living Prayerfully
A Year of Living Prayerfully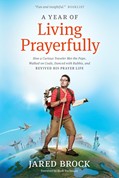 Price:
15.99
ISBN:
978-1-4143-9539-5
Trim Size:
5.5 x 8.25
Binding:
Softcover
Release:
February 2016
Although 90 percent of us pray, very few of us feel as if we have mastered prayer. A Year of Living Prayerfully is a fascinating, humorous, globe-trotting exploration of prayer that will help you grow your own prayer life.

While working on a humanitarian project related to exposing human trafficking, Jay and Michelle Brock felt they needed better and stronger prayer support. In an effort to learn more about prayer, the couple traveled the globe, exploring the great prayer traditions: in mountains and monasteries, in communes and cathedrals, standing up and lying down, every hour and around the clock. Jared's witty reflections on his fast-paced journey will both entertain and prompt you to think about your own prayer life.

As you follow Jared on his eclectic journey, you'll discover an expansive vision of what prayer can be and how much it is has changed the course of human history.

Spark growth in your own prayer life with this exhilarating and charming journey through prayer.