products :: Stickers :: Bible Animals ::
Cross, Lamb, and Tomb
Cross, Lamb, and Tomb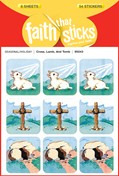 Price:
2.49
ISBN:
978-1-4143-9504-3
Trim Size:
4.063 x 6
Binding:
Stickers
Release:
February 2014
These lovely illustrated stickers feature Easter symbols of a lamb, cross, and empty tomb. Share the story of Jesus' life, sacrifice, and resurrection with boys and girls in preschool or Sunday school, or decorate to remind others of the reason behind the holiday. Stickers in three designs measure 1¼" x 1¼". Six sheets, 9 stickers per sheet; 54 stickers per package.