products :: Kids :: Stickers ::
Wreaths Stick-N-Sniff
Wreaths Stick-N-Sniff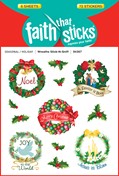 Price:
2.49
ISBN:
978-1-4143-9436-7
Trim Size:
4 x 5.75
Binding:
Stickers
Release:
February 2014
These Stick-n-Sniff wreath and holly stickers lend a smell of pine to cards and projects. Five large round wreath stickers (approx. 1¼") have Christmas greetings, including Noel, Merry Christmas, Jesus is Born, Joy to the World, and A Savior is born. Each sheet also has seven smaller holly and berry stickers. Six sheets, 12 stickers per sheet; 72 stickers per package.