products :: Kids :: Stickers ::
Christmas Poinsettia
Christmas Poinsettia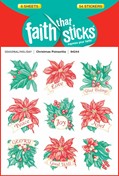 Price:
2.49
ISBN:
978-1-4143-9424-4
Trim Size:
4.063 x 6
Binding:
Stickers
Release:
March 2014
Cheerful illustrations of poinsettias make these stickers the perfect complement to Christmas crafts, cards, and decorations. Classic holiday greetings include Love, Glad Tidings, Peace, Joy, Noel, Glory, and Good Will. Approximately 1¼" x 1¼". Six sheets, 9 stickers per sheet; 54 stickers per package.