products :: Nonfiction :: Devotionals ::
Life Promises for Women
Life Promises for Women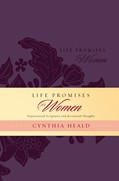 Price:
12.99
ISBN:
978-1-4143-9364-3
Trim Size:
4.188 x 6.875
Binding:
LeatherLike
Release:
March 2015
"The Lord always keeps his promises." —Psalm 145:13

Beauty, passion, wisdom, integrity, selflessness, graciousness, contentment, and courage. These are qualities that all women aspire to. But what do they look like, and how can we achieve them?

In Life Promises for Women, bestselling author and beloved Bible teacher Cynthia Heald shares a collection of carefully selected readings, Bible promises, and meditative thoughts designed to inspire, enlighten, and ground readers in God's Word every day, and guide them along the path to becoming the extraordinary women God intended them to be.

Beautifully packaged, this timeless devotional is an ideal Mother's Day gift for any woman in need of encouragement and wisdom in her daily walk with God.