products :: :: ::
Inspirations for a Mother's Soul
Inspirations for a Mother's Soul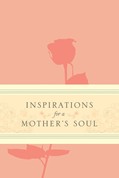 Price:
12.99
ISBN:
978-1-4143-9363-6
Trim Size:
4 x 6
Binding:
LeatherLike
Release:
March 2015
God is in the midst of her; she shall not be moved; God will help her when morning dawns. —Psalm 46:5

No one is more deserving of admiration, affirmation, and encouragement than mothers. Whether it's a simple expression of gratitude, a heartfelt word of thanks, or an acknowledgment of all of the selfless acts they perform on a daily basis, all moms want and need to feel appreciated and loved. In Inspirations for a Mother's Soul, moms are treated to divine words of wisdom, hope, grace, and love 365 days a year. The perfect gift for Mother's Day, this beautiful LeatherLike devotional fits perfectly in a purse or diaper bag and provides moms with daily doses of encouragement, guidance, and assurance in readings short enough to finish in a carpool lane, during nap time, or in a rare moment of peaceful solitude—anytime, anywhere.