products :: Kids :: Stickers ::
Classic Jesus Pictures
Classic Jesus Pictures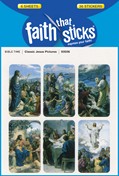 Price:
2.49
ISBN:
978-1-4143-9350-6
Trim Size:
4.063 x 6
Binding:
Stickers
Release:
February 2014
These stickers show six different classic, finely illustrated pictures of Jesus Christ—teaching, walking on water, feeding the multitudes, blessing the children, at the Last Supper, and ascending to heaven. A great way to teach boys and girls the life of Jesus or illustrate key Bible stories. Each sticker is approximately 1" by 1¾". Six sheets, 6 stickers per sheet; 36 stickers per package.