products :: Kids :: Stickers ::
Garden Birds and Butterflies
Garden Birds and Butterflies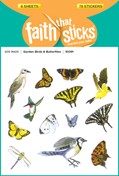 Price:
2.49
ISBN:
978-1-4143-9339-1
Trim Size:
4 x 5.75
Binding:
Stickers
Release:
February 2014
These beautifully illustrated stickers show garden birds and butterflies, including blue jay, dove, hummingbird, dragonfly, and more. Perfect for decorating cards and notes or to help show boys and girls the diverse nature of God's creation. Stickers are approximately ¾"–1½" x ½"–1¼". Six sheets, 13 stickers per sheet; 78 stickers per package.