products :: Kids :: Stickers ::
Children's Bible Micro-Mini
Children's Bible Micro-Mini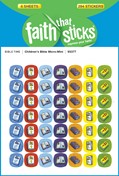 Price:
2.49
ISBN:
978-1-4143-9337-7
Trim Size:
4 x 5.75
Binding:
Stickers
Release:
February 2014
Each of these miniature stickers has a colorful illustration of the Bible; there are seven different designs. The small size (approx. ?" x ?") makes them ideal for progress charts, attendance records, and papers. A useful resource for anyone who works with kids at church or school, and a great value. Six sheets, 49 stickers per sheet; 294 stickers per package.