products :: :: ::
Happy Heart Miniature
Happy Heart Miniature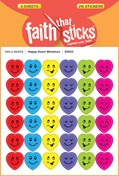 Price:
2.49
ISBN:
978-1-4143-9322-3
Trim Size:
4 x 5.75
Binding:
Stickers
Release:
December 2013
These miniature hearts are guaranteed to get a smile from any boy or girl. The smiles, grins, and eyes on each sticker face vary just a bit—like the boys and girls you'll share them with. Six vibrant colors make them great for attendance charts and reward stickers. Just over ½" x ½" each. Six sheets, 36 stickers per sheet; 216 stickers per package.