products :: Stickers :: For Teachers ::
Fragrant Roses Stick-n-Sniff
Fragrant Roses Stick-n-Sniff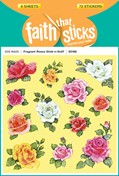 Price:
2.49
ISBN:
978-1-4143-9318-6
Trim Size:
4.063 x 6
Binding:
Stickers
Release:
December 2013
These Stick-n-Sniff roses give a fragrant flower smell to cards and projects. A dozen "fragrant roses" designed in white, pink, red, and yellow are wonderful for decorating, sealing envelopes, or a garden-themed craft for boys and girls. Stickers are approximately ¾"–1½" x ¾"–1½". Six sheets, 12 stickers per sheet; 72 stickers per package.