products :: Stickers :: Crosses and Christian Symbols ::
Stained Glass Crosses
Stained Glass Crosses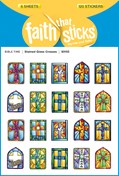 Price:
2.49
ISBN:
978-1-4143-9315-5
Trim Size:
4.063 x 6
Binding:
Stickers
Release:
January 2014
These stickers of stained glass crosses are beautifully colored with silver foil edges. Ten different designs make lovely embellishments on note cards and Easter crafts, or as rewards for Sunday school papers or children's church. Just over ½" x ¾" each. Six sheets, 20 stickers per sheet; 120 stickers per package.