products :: Stickers :: Jesus ::
Jesus Died and Lives
Jesus Died and Lives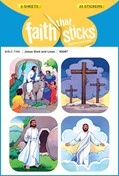 Price:
2.49
ISBN:
978-1-4143-9308-7
Trim Size:
4.063 x 6
Binding:
Stickers
Release:
January 2014
Four large, colorful stickers beautifully illustrate Jesus' last days on earth. Approximately 1½" x 1¾", scenes include Jesus' triumphal entry into Jerusalem, the Cross, the risen Jesus outside the tomb, and Jesus ascending to heaven. Six sheets, 4 large stickers per sheet; 24 stickers per package.