products :: :: ::
Everyday Encouragement
Everyday Encouragement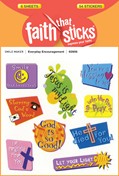 Price:
2.49
ISBN:
978-1-4143-9280-6
Trim Size:
4.063 x 6
Binding:
Stickers
Release:
December 2013
Stickers with Christian messages of encouragement are great for kids or adults. Put them on notes; use them in crafts or to decorate placecards. Fun illustrations and inspiring phrases include God is so Good, Let Your Light Shine, I'm Praying for You, and more. Approximately 1"–2" x 1"–2". Six sheets, 9 stickers per sheet; 54 stickers per package.