products :: :: ::
Smile, God Loves You
Smile, God Loves You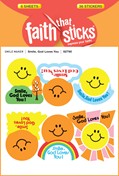 Price:
2.49
ISBN:
978-1-4143-9279-0
Trim Size:
4.063 x 6
Binding:
Stickers
Release:
December 2013
Topped with irresistible orange and yellow smiley faces, these stickers share an important message with boys and girls of all ages: Smile, God Loves You! Use at home for lunch bags or notes, or at Sunday school or church as a whimsical reminder of this powerful truth. Each of six designs is approximately 1¾" x 1¾". Six sheets, 6 stickers per sheet; 36 stickers per package.