products :: Stickers :: For Teachers ::
Heart Smiles Micro-Mini
Heart Smiles Micro-Mini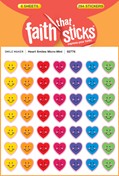 Price:
2.49
ISBN:
978-1-4143-9277-6
Trim Size:
4.063 x 6
Binding:
Stickers
Release:
December 2013
These miniature hearts are guaranteed to get a smile from any boy or girl—just like the happy, smiling face on each one. These stickers come in seven fun colors and are great for attendance charts, reward stickers, or just letting kids know you care. About ½" x ½". Six sheets, 49 stickers per sheet; 294 stickers per package.