products :: Kids :: Stickers ::
God's Beautiful Butterflies
God's Beautiful Butterflies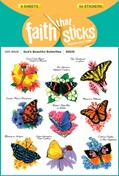 Price:
2.49
ISBN:
978-1-4143-9263-9
Trim Size:
4.063 x 6
Binding:
Stickers
Release:
December 2013
These beautifully illustrated, realistic butterfly stickers include the names of both the insect species and the bloom on which they sit. A great way to help boys and girls understand the diverse nature of God's creation. Also ideal for spring or Easter. Stickers are approximately 1" x 1¼" each. Six sheets, 9 stickers per sheet; 54 stickers per package.