products :: Stickers :: Animals, Fish, Bugs, and Bird ::
God's Beautiful Birds
God's Beautiful Birds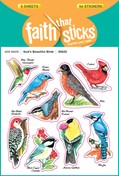 Price:
2.49
ISBN:
978-1-4143-9262-2
Trim Size:
4.063 x 6
Binding:
Stickers
Release:
December 2013
These beautifully illustrated, realistic bird stickers include names—Cardinal, Red-Breasted Robin, American Goldfinch, Blue Jay, Red-Bellied Woodpecker, Ruby-Throated Hummingbird, Eastern Bluebird, and more. Nine different stickers are approximately 1"–1½" x 1¼"–1¾". Six sheets, 9 stickers per sheet, 54 stickers per package.