products :: Stickers :: Crosses and Christian Symbols ::
Religious Miniatures
Religious Miniatures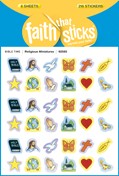 Price:
2.49
ISBN:
978-1-4143-9258-5
Trim Size:
4.063 x 6
Binding:
Stickers
Release:
December 2013
These mini stickers come in 12 different designs per sheet, each showing a different religious symbol, including: Bible, Jesus, dove, praying hands, church, and more. Great for rewards or attendance charts, each sticker is approximately ½" x ½". A good value with six sheets, 36 stickers per sheet; 216 stickers per package.